I attended the weigh in during the Adizero Challenge last Friday at Greenbelt 3.  It was attended by some media and fellow running bloggers.  Adidas had a weighing scale in front for us to weigh our shoes and to compare it with the Adizero series of its own class.  I brought my own shoes to take the challenge.  Of course, I have to bring the one that I was sure will beat the Adizero Aegis weight of 265 grams.  But what I brought was more of a racing flat which are naturally lighter, and the Adizero Aegis are stability support+cushion shoes.  They are of a differetnt class.  Adidas has its own racing flats too, the Adizero Rocket.  So did my racing flats compare to the Adizero Rocket?  I'll tell you about that later.  But first, let me show you the Adizero Aegis.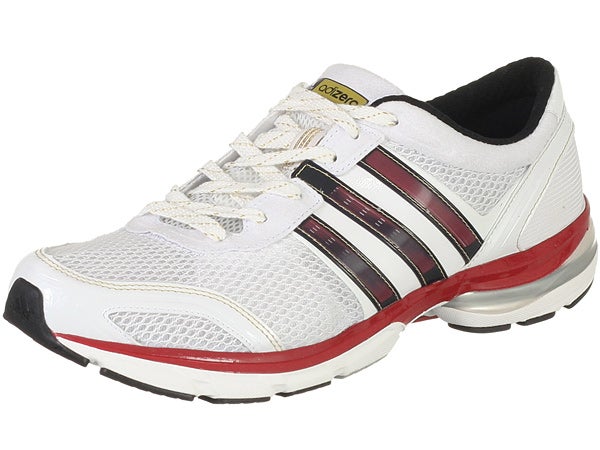 Aegis is known to be the breastplate of Zeus and Athena.  The word stands for protection, auspices, and sponsorship.  It is also a name of a popular local band.
Here is how Adidas describe the Adizero Aegis:
A faster, sleeker lightweight trainer. Designed with ForMotion upper and ground-adapting 3D ForMotion unit for smoother, more natural touchdowns at high speeds Airmesh upper for maximum ventilation. Asymmetric upper construction to avoid forefoot pressure. Moulded respoEVA sockliner for anatomical fit and great step-in comfort. Non-slip lining for comfort and performance. Extended TORSION SYSTEM bar for heel and midfoot stability. Full forefoot adiPRENE+ for foot propulsion & efficiency adiWEAR outsole for best durability in high wear areas. Forefoot lugs for traction on road surfaces.
Some of my impressions with the Adizero Aegis.
Very light shoe in its class.  For a stability shoe, this one really very light.  Usually, I can identify a stability shoe to be the heaviest and the thickest soles.  But the Adizero Aegis is not bulky for its type.  That's good news to pronators who want to have light shoes for chasing PRs.
Weird tongue. All of my shoes have the tongue attached only at the bottom of the laces.  But the Adizero Aegis has its tongue attached at one side as well as shown in the picture below.  Fitting it doesnt make my shoe look symetrical.

Clean and neat. It's mostly white giving the shoe a clean and neat look.  I'm sure it will look good when worn with my running shorts for running and with my maong pants for shopping. 😀
Give me two weeks to test and break in the shoe.  Then I'll get back with another review on the Adizero Aegis.  And please pray it doesn't rain during a test run.
The weigh in on racing flats
My shoe during the weigh in was only 243 grams.  It easily beats the Adizero Aegis by several grams.  But as I mentioned, my shoe is in a different class as the Adizero Aegis.
But here comes the Adizero Rocket.  It's the racing flat in the Adizero series and it is in the same class of the shoe that I brought for the weigh in.  Want to guess how much it just weighs?  It only weighs 198 grams.  That's really really light.  My shoe lost the weigh in against the Adizero of its class.
The Adidas Adizero Gram Challenge is still challenging your shoes until August 31.  Just beat the 265 grams benchmark of the Adizero Aegis and you will get a 20% OFF in your Adizero purchase.  If heavier, you still get corresponding discounts.  Aside from that, look for the equivalent shoe type in the Adizero series and compare it your shoe of the same type or class.
Will you win the challenge?
NOW AVAILABLE. TAKBO.PH COTTON TEES AND HOODIES. CLICK ON THE IMAGE TO ORDER.
Training for a race? Check out our list of training plans below.
Browse through other related events and articles below.